LESTAT FOR PRESIDENT
Bumperstickers, Banners, and Buttons
These bumperstickers/banners are for anyone to use for anything. Print them out and tape them to your car window, cubicle, binder; put them anywhere! Or, save them, and put them on your site to show who you're going to be voting for come November. To save the files, right click with your mouse and selection the save option. To print files, right click and selection "open in new window" and then the print option from your "file" menu on your browser.
All images of Lestat, as always, are copyright Warner Bros. Pictures, Geffen Films, Anne Rice, and David Sexton (the biker pic).
Banners/Bumperstickers:


This one is a .gif with a white backbround.


This was has a transparent background.


This one has a white background.
BUTTONS: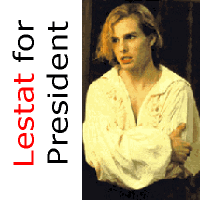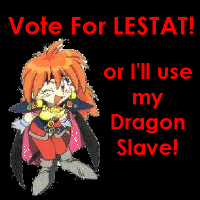 (I couldn't resist the Lina Inverse one.. sorry..)